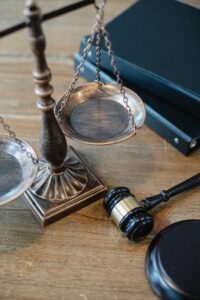 A Lawsuit Advance or Pre-Settlement Funding occurs when plaintiffs are advanced money from a court award before the final decision is made.
If you are involved in a lawsuit because you have been injured in an accident caused by someone else and you find you need cash now, a Pre-Settlement Legal Advance may be the solution. 
If you win your case, the amount you were advanced, plus agreed-upon interest charges and fees, will go to the Advance Company. 
If the case does not settle in your favor, you typically won't owe anything.
Most of our Legal Advance applicants need cash quickly to cover daily living expenses such as rent, a mortgage payment, a car payment or in some cases they have other emergency cash needs or medical expenses due to the accident.
Are you the plaintiff in a lawsuit seeking monetary damages then Legal Funding could be a way to help you pay your legal fees. Legal Funding is actually a Pre-Settlement Cash Advance also known as Legal Advance.
Legal Funding is a way for you to obtain money from your expected settlement when you need it, even before your case actually goes to trial.
You won't have to wait for your case to conclude before you can receive a portion of your future settlement. In fact, most reputable settlement companies will be able to get you the funds which you need in less than 48 hours.
Lawsuit Advance Funding is determined by the details of your lawsuit.
When one request qualification for a Pre-Settlement Advance there will be several factors which must always be considered when reviewing your application.
The facts of your legal case must demonstrate clear liability on the part of the defendant and the more evidence you and your personal injury attorney have against the defendant, means the more likely you are to receive Pre-Settlement Advance Funding.
The defendant must be liable and also have the ability to pay damages. Any individual or company that is held liable for your injury must be able to pay compensation.
They must have enough insurance coverage or liquidable assets in order to pay you the money you deserve for your damages and injuries.
If you have significant medical bills a Legal Advance Settlement could be used to pay any ongoing need for medications or physical therapy, or medical equipment all these will also figure into the total expenses that one needs to have covered.
It is also important to determine your attorney's fee structure do you pay them by the hour or have you retained them on a contingency basis?  
When acquiring Lawsuit/Legal Advance Funding the majority of reputable Legal Funding Companies require that your attorney has agreed to payment contingent on the outcome of your lawsuit.
Never let any financial pressures force you to settle your case for less than you deserve.
You can apply for settlement funding with absolutely no upfront costs or fees.
Find out now if you qualify for Legal Advance Funding.
In most situations, within 24 hours you will be notified to whether or not you are approved for funding,
Call Now!  Toll-Free  (800) 413-5167
One phone call to SECA Funding Company could potentially put an end to the financial concerns you have associated with your pending litigation.
Legal Funding is sought after very commonly and highly recommended for all types of legal cases.
If a plaintiff stands to gain a significant settlement, the defendant may decide to use a delaying tactic, taking the option to drag the case out in the hopes that the plaintiff will choose to settle for less.
* Legal Advance Funding allows for the plaintiff to hold out longer for a much larger settlement.

Plaintiffs may be in great need financially for their basic needs such as food, rent, mortgage payment, or medication.
Legal Advance Funding can help!
It is very disheartening to an attorney having to watch their client being forced to accept an early settlement just because they can't afford to let the legal process continue its full course.
* Legal Funding can give attorneys the well needed time to precede thus getting the settlement their client truly deserves.
It allows attorneys to devote the majority of their time and resources to the actual lawsuit of their client while leaving their clients better suited to handle their own financial issues on their own. Simply, Legal Funding allows attorneys their freedom to practice law instead of playing financial advisor to their client.
The approval process for your Legal Funding will be a comprehensive examination of your application, the details thereof from your lawsuit, and all your legal team's correspondence.
Once your funding has been approved for you to receive Legal Advance, there are several ways that you can receive your money. Overnight check that can be deposited directly into your bank account, funds wire transferred directly into your bank account, or a cashier's check can be sent to you.
Legal Funding Companies offer financing to attorneys and plaintiffs based on the value of future receivables, the settlements from lawsuits. The intent of Legal Funding is for it to be used by plaintiffs who are short on money after experiencing physical or emotional trauma from an accident, or by attorneys who are lacking the financial capital necessary to adequately advance their Law Practice.
*** Legal Funding Is Better Than All Those Expensive Lawsuit Loans.
Traditional banking institutions and credit bureaus do not give loans based on expected future settlements yet a Legal Settlement Advance company will provide this quick, reliable and proven financial service.
Get A Free No-Obligation Confidential Pre-Settlement Legal Advance Proposal Today!
Request a Free Legal Advance Proposal Visit:
or Call Now! (800) 413-5167
contact@secafunding.com
Copyright 2023 A.D.  SECA Funding Company